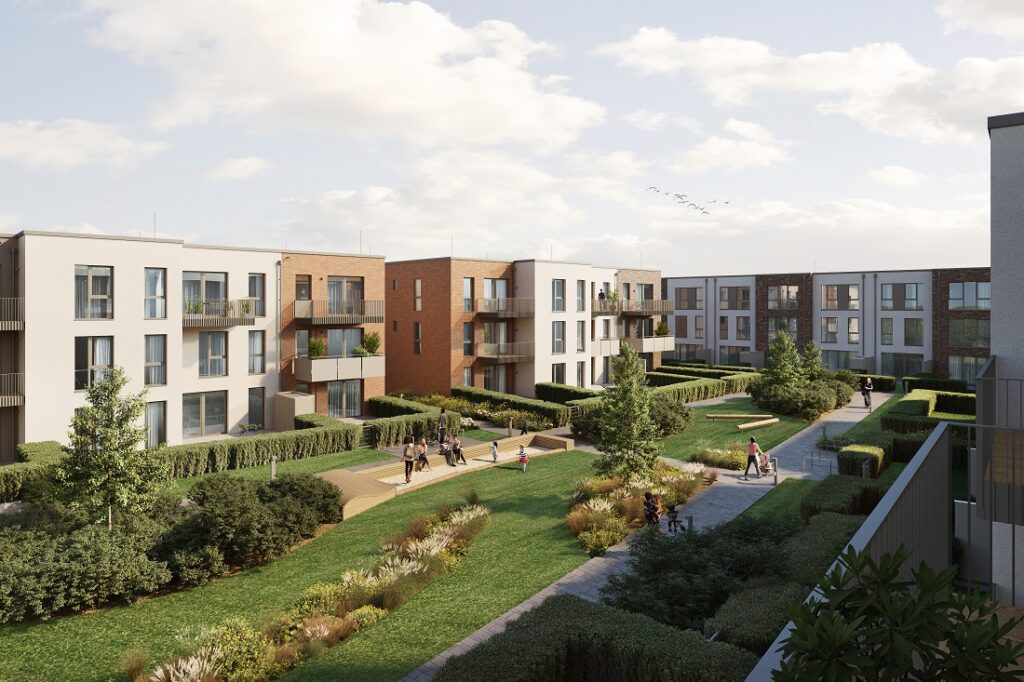 With the Jenfelder Au, the largest urban development project east of the Alster is being built in Hamburg-Wandsbek. A joint venture between OTTO WULFF and cds Wohbau is developing and building 137 rental apartments, 48 owner-occupied apartments and 10 individual townhouses on a total of three of the construction sites.
Your own townhouse in the middle of the city
Ten modern townhouses are being built on site 16.1. "In the individual, 3-storey terraced houses, families in particular can live in 4-5 rooms each. Each house has its own garden." Stefan Wulff, Managing Partner of OTTO WULFF. The townhouses offer a total living space of 110 to 130 m².
48 condominiums with a living space of 53 to 141 m² are also being built in the immediate vicinity. The 2 to 4 room apartments will each have their own terrace or balcony.
"Construction of the 10 townhouses and 48 condominiums is scheduled to start next autumn. In the first half of 2023, our customers can then move into their new homes," says Frank Gedaschko, Managing Director of cds Wohnbau Hamburg. The townhouses and condominiums are marketed under the JENAU name. "Sales of the condominiums and townhouses started recently and the demand is extremely positive," says Gedaschko.
Another 137 new rental apartments are already under construction
On plots 9 and 11, 137 rental apartments and 4 commercial units are already under construction. OTTO WULFF and cds Wohnbau sold the 2 to 5 room apartments with 55 to 165 m² to Aberdeen Standard Investments Deutschland AG. After a good 9 months of construction, the shell of 3 of the 7 free-standing parts of the building is now complete.
Innovative energy concept
All apartments and townhouses are connected to the HAMBURG WATER Cycle® wastewater concept. "The black water from the toilets is collected and converted into electricity and heat energy within the district. The less polluted gray water from the shower or washing machine is cleaned and drained into local bodies of water," explains Stefan Wulff.
In addition, all buildings are constructed as KfW efficiency houses according to standard 55. The 59 underground parking spaces of the condominiums and townhouses will be equipped with e-car charging stations.

More information about the JENAU project: www.jenau-hamburg.de
More information about OTTO WULFF: www.otto-wulff.de
More information about cds housing: www.cds-wohnbau.de

About the Jenfelder Au district: The largest urban development project east of the Alster is growing in the south of the Hamburg district of Wandsbek. In the coming years, several hundred apartments will be built on the 35-hectare site of the former Lettow-Vorbeck barracks. More than 2,000 people will live here - in affordable individual townhouses and in apartments.
About OTTO WULFF: For more than 85 years, OTTO WULFF has been creating living spaces that make people happier. The family business develops and builds residential and commercial projects as well as other diverse real estate such as schools or hospitals. OTTO WULFF employs more than 600 people at the three locations in Hamburg, Berlin and Leipzig. OTTO WULFF is one of the leading construction companies and project developers in northern Germany. With modern, sustainable and social concepts, OTTO WULFF designs life and work for a better future.
About cds Wohnbau: The cds Wohnbau group of companies based in Berlin, Frankfurt and Hamburg has been successfully developing and marketing residential projects since 2002. Creating sophisticated residential ensembles for more quality of life and sustainable value development in attractive locations is the focus of the commitment. cds Wohnbau has developed over the years into an important and stable property developer in Germany.
Visualization: @bloomimages
www.abendblatt.de I 22.04.2021
www.mopo.de I 23.04.2021
www.bild.de I 23.04.2021
www.immobilienmanager.de I 22.04.2021
www.immobilien-zeitung.de I 22.04.2021
www.focus.de | 23.04.2021