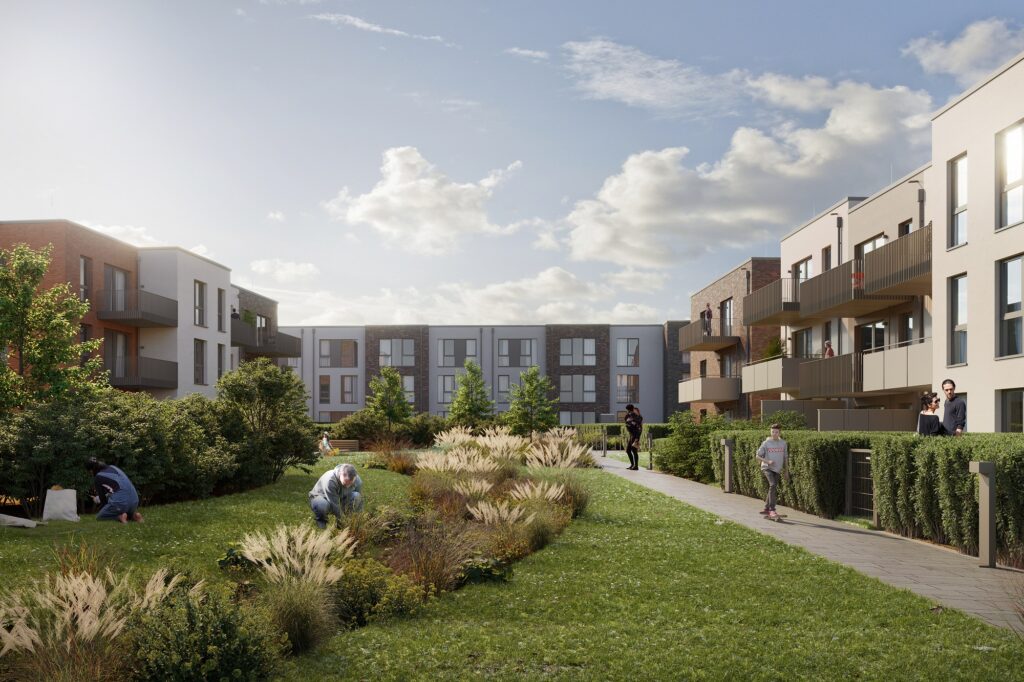 Right in the heart of the new Jenfelder Au district, the joint venture partners OTTO WULFF and cds Wohnbau Hamburg are developing and building 48 condominiums and 10 townhouses. The topping-out ceremony was held on Friday.
The shell is standing

Construction work on site 16.1 has been in full swing since September 2021. The joint venture has now completed the shell of 48 condominiums with a living space of 53 to 141 m². The two- to four-room apartments on the upper floors of the 5 residential buildings have their own balcony and on the ground floor they have their own terrace.

The shell of the 10 modern townhouses in the immediate vicinity has already been completed. The individual, three-storey houses offer the future residents space for free development with 4 to 5 rooms. The 110 to 130 m² townhouses also have their own garden.

A green oasis of well-being

Stefan Wulff, Managing Partner of OTTO WULFF:

"The apartments and townhouses in Jenfelder Au are perfect for singles, couples and families who want to live in the countryside and at the same time have good connections to the center of Hamburg. The spacious open spaces in the green inner courtyard offer plenty of space to play, relax and socialize – and all without the disruptive traffic."

The entrance to the underground car park is on the street side and therefore outside the inner courtyard. 59 parking spaces are being created here, all of which are equipped with an e-charging station. Around 124 bicycle parking spaces are also planned in the underground car park.
Daycare, school and supermarket right outside the door

Frank Gedaschko, Managing Director of cds Wohnbau Hamburg:

"Another plus point for future residents of the apartments and townhouses is the diverse infrastructure in Jenfelder Au. In addition to various shopping facilities, there are several schools, day-care centers and a colorful mix of sports and leisure activities right outside the front door."

Innovative energy concept

Jenfelder Au is the first large residential area ever to be connected to the HAMBURG WARTER Cycle®, and with it a large part of the condominiums and townhouses. Black water from the toilets, gray water from the shower or washing machine and rainwater are collected separately and used respectively. The black water collected is converted into climate-neutral heat and electricity in the district's own thermal power station.

In addition, all buildings are constructed as KfW efficiency houses according to standard 55.

Huge interest

The townhouses and condominiums are marketed under the JENAU name. The interest is great. All townhouses and around 94 percent of the condominiums have already been sold. Completion is scheduled for summer 2023.

In the immediate vicinity of the JENAU project, OTTO WULFF and cds Wohnbau are also realizing 140 new rental apartments. The two- to five-room apartments are expected to be handed over in November of this year.

More information about the JENAU project: www.jenau-hamburg.de

About the Jenfelder Au district: The largest urban development project east of the Alster is growing in the south of the Hamburg district of Wandsbek. In the coming years, several hundred apartments will be built on the 35-hectare site of the former Lettow-Vorbeck barracks. More than 2,000 people will live here - in affordable individual townhouses and in apartments.

About OTTO WULFF: OTTO WULFF has been creating living spaces that make people happier for 90 years. The family business develops and builds residential and commercial projects as well as other diverse real estate such as schools or hospitals. OTTO WULFF employs more than 600 people at the three locations in Hamburg, Berlin and Leipzig. OTTO WULFF is one of the leading construction companies and project developers in Northern Germany. With modern, sustainable and social concepts, OTTO WULFF designs life and work for a better future.www.otto-wulff.de

About cds Wohnbau: The cds Wohnbau group of companies based in Berlin, Frankfurt and Hamburg has been successfully developing and marketing residential projects since 2002. Creating sophisticated residential ensembles for more quality of life and sustainable value development in attractive locations is the focus of the commitment. cds Wohnbau has developed over the years into an important and stable property developer in Germany. www.cds-wohnbau.de
Visu: ©bloomimages
www.abendblatt.de I 29.08.2022
www.focus.de I 29.08.2022
www.mopo.de I 29.08.2022
www.architekturblatt.de I 29.08.2022
www.property-magazine.de I 29.08.2022
www.finanznachrichten.de I 29.08.2022
www.finanznachrichten.de I 29.08.2022
www.nachrichten-heute.net I 29.08.2022