In Hamburg-Ohlsdorf hat der Bau von 116 neuen Wohnungen begonnen. Direkt am Alsterlauf entsteht ein buntes, familienfreundliches Quartier mit modernen Sozial- und Eigentumswohnungen. Das Interesse ist schon jetzt groß.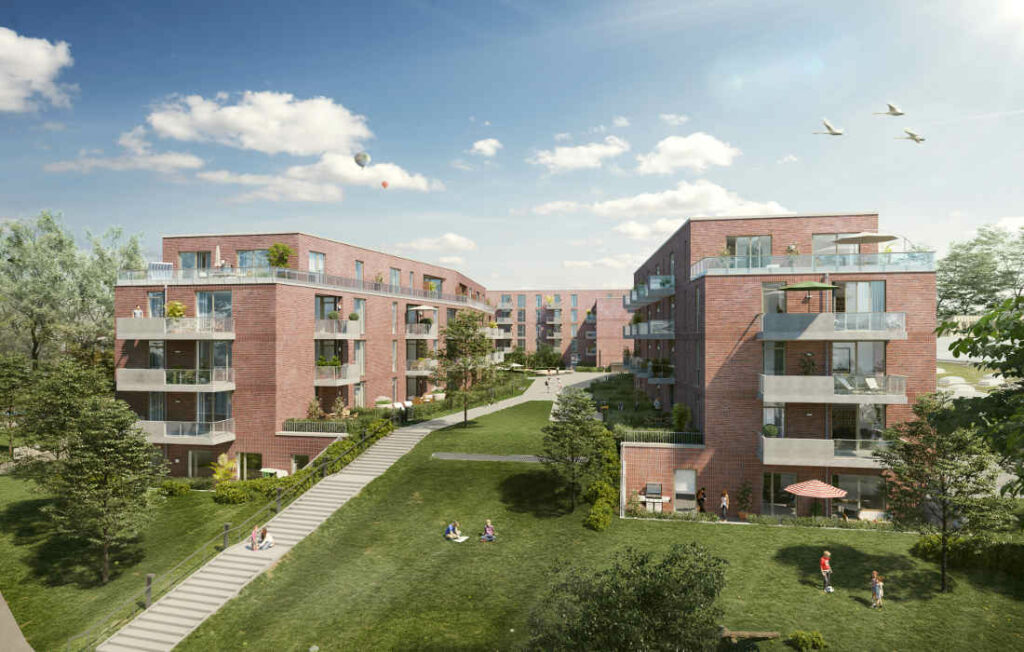 Directly on the course of the Alster and at the same time perfectly connected: Construction work for the ALSTERKANT project has started in Ohlsdorf. By the end of 2022, a joint venture between OTTO WULFF and cds Wohnbau will develop and build 35 socially subsidized rental apartments and 81 modern condominiums on the former site of the Ohlsdorf family pool.
"The demand for the condominiums in this special location on the Alster is overwhelming. Around 60% of the one to four room apartments have already been sold. Another 25% are reserved. The majority of previous buyers had already registered when the project was announced. We received more than 1,000 inquiries in advance" says Frank Gedaschko, Managing Director of cds Wohnbau Hamburg.
The publicly funded apartments were sold to the Hamburger Lehrer-Baugenossenschaft eG in the summer. Twelve of them are supported as classic social housing in the 1st funding path, 23 other apartments are supported in the 2nd funding path and are aimed at people with low to medium incomes. The cold rent is a maximum of 8.70 euros / sqm.
"We want to create a quarter for all Hamburg residents: for families, couples and singles. Anyone looking for a modern condominium will find a home here, as will people on a lower income who are looking for an affordable rental apartment in a really great location. This healthy mix has proven itself in Hamburg and is good for our city.", says Andreas Seithe, Managing Director of OTTO WULFF.
A special focus in the ALSTERKANT quarter is on the environment: all four houses are being built as KfW efficiency houses according to standard 55. All underground parking spaces can also be equipped with an e-car charging station.
More information on the ALSTERKANT project: www.alsterkant.de
More information about OTTO WULFF: www.otto-wulff.de
More information about cds housing: www.cds-wohnbau.de
About OTTO WULFF: For more than 85 years, OTTO WULFF has been creating living spaces that make people happier. The Hamburg family company is one of the largest real estate providers in northern Germany and currently employs around 600 people. OTTO WULFF develops, builds and operates from a single source and is represented throughout Germany with locations in the metropolises of Hamburg, Berlin and Leipzig as well as on the North and Baltic Seas. With modern, sustainable and social concepts, OTTO WULFF designs life and work for a better future.
About cds Wohnbau: The cds Wohnbau group of companies based in Berlin, Frankfurt and Hamburg has been successfully developing and marketing residential projects since 2002. Creating sophisticated residential ensembles for more quality of life and sustainable value development in attractive locations is the focus of the commitment. cds Wohnbau has developed over the years into an important and stable property developer in Germany.
Visualization: @dredesign
www.presseportal.de I 01.12.2020
www.aktiencheck.de I 01.12.2020
www.mopo.de I 02.12.2020
www.immobilien-magazin.at I 02.12.2020
www.kiekmo.hamburg I 10.12.2020