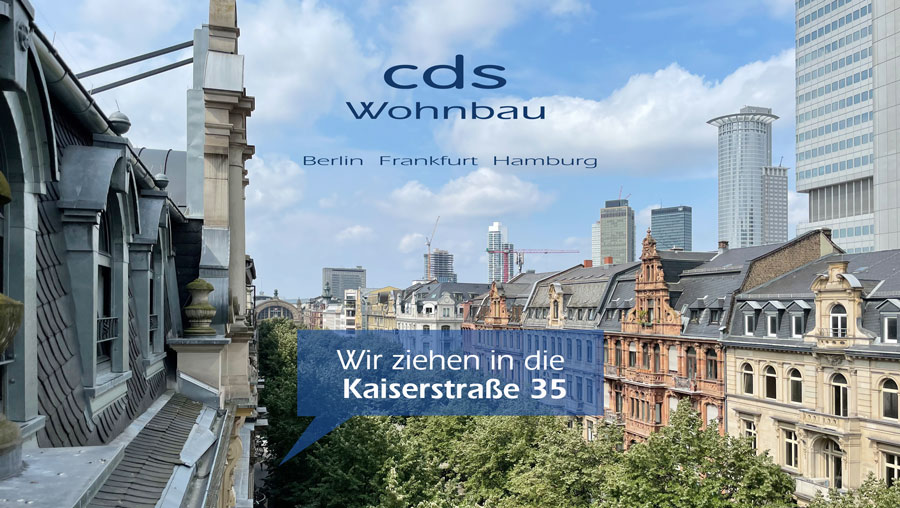 It's time...
... the cds Wohnbau Group has its own new headquarters. On October 1, 2021, cds Beteiligungs GmbH and its subsidiary, cds Wohnbau GmbH, will move into new business premises at Kaiserstrasse 35 in Frankfurt.
cds Beteiligungs GmbH | cds Wohnbau GmbH
Stresemannallee 30
60329 Frankfurt am Main
The milestone for a larger office close to the center was set at the end of 2019 with the acquisition of the Gründerzeit residential and commercial building on Kaiserstrasse. Since then, a lot of creativity, time and sweat has been invested in the conversion and created team and productivity-enhancing, appealing and inviting business premises on two floors. Our employees, customers and partners can look forward to more space for personal consultations and creative exchange in the future.
From an architectural point of view, Kaiserstraße is one of the last remaining boulevards in Frankfurt and connects the Roßmarkt city center with the main train station. The historic houses from the Wilhelminian period of the 19th century impress with opulent sandstone facades and offer a unique contrast to the modern skyscrapers in the adjacent financial district. The listed property "Kaiserstraße 35" is a valuable addition to the existing real estate portfolio of cds Beteiligungs GmbH.
We look forward to welcoming you to our new premises in the near future. From the main train station or the Willy-Brandt-Platz stop, it is only a few minutes' walk to our office. You can easily park your car in the multi-storey car park at the theatre. From there it is only a 2 minute walk.
It greets you warmly
Your cds team