The shell of the ALSTERKANT residential area is located on the former site of the Ohlsdorf family pool. OTTO WULFF and cds Wohnbau have now celebrated the topping-out ceremony for the 116 new subsidized and owner-occupied apartments.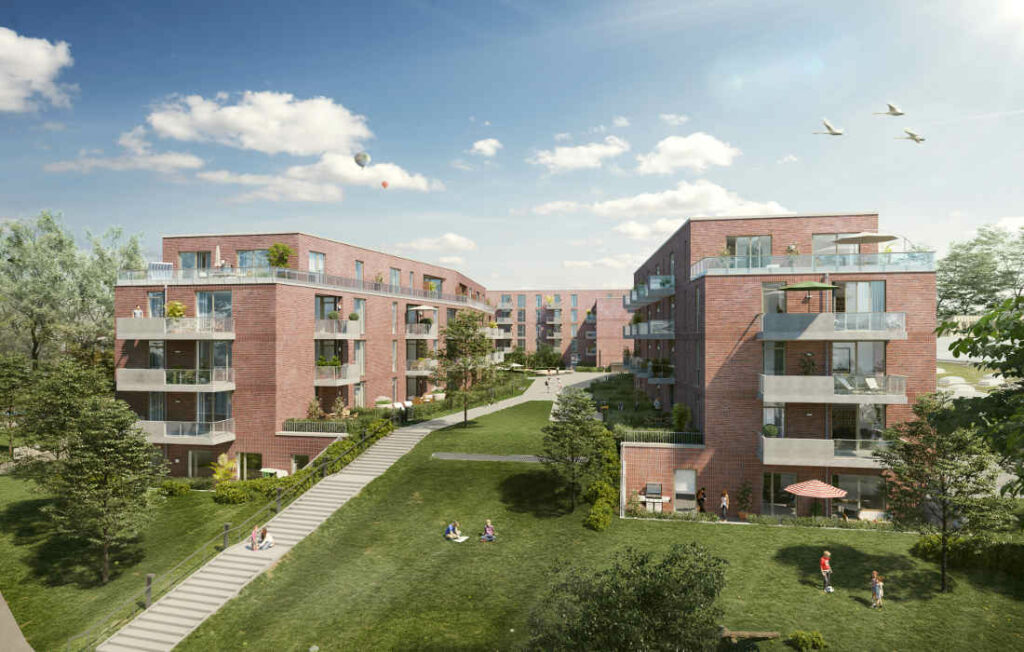 The ALSTERKANT residential quarter is being built in Hamburg-Ohlsdorf directly on the Alster. The project partners OTTO WULFF and cds Wohnbau Hamburg are developing and building 35 publicly funded rental apartments and 81 condominiums with a total of more than 9,000 m² of living space on the former site of the Ohlsdorf family pool. After about a year of construction, the shell is now complete. The topping-out ceremony was held on Tuesday.
"After completion, the publicly funded apartments will be taken over by the Hamburger Lehrer-Baugenossenschaft eG. 12 apartments will be classic social housing. 23 more apartments are being built in the so-called 2nd funding route, aimed at people with low to medium incomes. The basic rent is a maximum of 8.70 euros per square meter," explains Stefan Wulff, Managing Partner of OTTO WULFF.
"We were overwhelmed by the demand for the condominiums in this special location on the Alster. We are still in the shell construction stage, but almost all of the one to four-room apartments have now been sold," says Frank Gedaschko, Managing Director of cds Wohnbau Hamburg.
A special focus in the ALSTERKANT quarter is on the environment: all 4 buildings are being constructed as KfW efficiency houses according to standard 55 and the flat roofs are green throughout. There will be around 300 parking spaces for bicycles in the underground car park, as well as 100 parking spaces for cars, all of which can be equipped with an e-charging station.
The new residents are expected to move in at the beginning of 2023.
More information on the ALSTERKANT project: www.alsterkant.de
About OTTO WULFF: OTTO WULFF creates living spaces that make people happier - and has been doing so for around 90 years. The family business, now in its third generation, develops, builds and operates a wide variety of real estate: from residential buildings to entire districts, from schools to office buildings. OTTO WULFF realizes its own projects as a developer, but also builds for external builders as a general contractor. OTTO WULFF employs more than 600 people at three locations in Hamburg, Berlin and Leipzig. In its homeland of northern Germany, OTTO WULFF is now one of the leading construction companies and project developers. www.otto-wulff.de
About cds Wohnbau: The cds Wohnbau group of companies based in Berlin, Frankfurt and Hamburg has been successfully developing and marketing residential projects since 2002. Creating sophisticated residential ensembles for more quality of life and sustainable value development in attractive locations is the focus of the commitment. cds Wohnbau has developed over the years into an important and stable property developer in Germany. www.cds-wohnbau.de
Visualization: @dredesign
www.presseportal.de I 29.09.2021
www.finanznachrichten.de I 29.09.2021
www.mopo.de I 29.09.2021
www.kiekmo.hamburg I 04.10.2021