The Berliner Tafel was founded in 1993 as the first food bank in Germany. She has made it her mission to alleviate the plight of people in financial need - with food that is left over in restaurants and supermarkets, and which is collected by mostly volunteer workers and distributed to 400 social institutions.
The Berliner Tafel has been registering an immensely increasing demand for months: At the beginning of 2022 there were still 40,000 people who went to the LAIB and SEELE distribution points every month, in July it was already 72,000 people. In the cold season, the Tafel also supports the Berlin cold aid and helps homeless people with daily food collections for emergency shelters, night cafés and cold buses.
Copyright: Berliner Tafel
As a non-profit association, the Berliner Tafel is financed by donations and membership fees. Rising fuel and energy prices are also a major challenge for the Tafel with its 25 emergency vehicles.
The cds Wohnbau Berlin GmbH would like to support exactly here and donates to the Berliners as part of their Christmas donation Tafel e.V. and thus helps people to bridge a difficult time.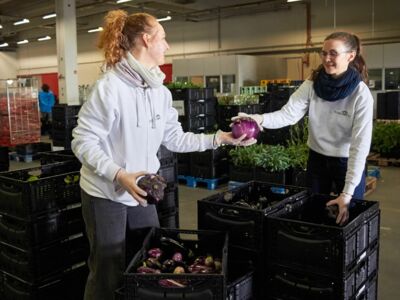 Copyright: Berliner Tafel, Nadja Kammer