Emergency shelters of the Berlin City Mission (cold aid)
From November to March, every evening into the night hours, a cold and a heat bus are on the road in Berlin to visit people without accommodation, to look after them and to take them to emergency accommodation free of charge. cds Wohnbau Berlin GmbH was able to support the emergency accommodation in Lehrter Straße with new mattresses.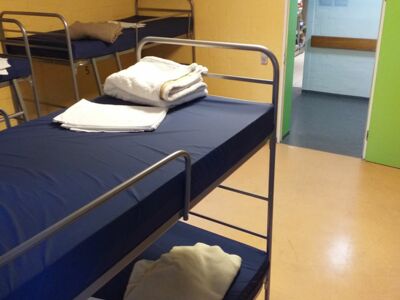 Around 40,000 people live in Berlin without a home. When the cold winter months arrive, it is often the hardest time of the year for them. The Berlin City Mission's cold aid is doing an invaluable service here. In the emergency overnight stays, those in need find a place to sleep, are offered a warm meal and can receive medical help. The cold bus is there for homeless people who can no longer make it to an emergency shelter on their own. It drives every evening from 9 p.m. to 3 a.m. and takes care of homeless people or takes them to an emergency overnight stay.
Years ago, the homeless had to sleep poorly on sleeping pads in the shelters. These are now worn out and had to be replaced. A refugee home made its old bedsteads available to the emergency shelter in Lehrer Straße (main train station) and this is how the idea came about to switch to real mattresses instead of letting the needy sleep on the floor. cds Wohnbau Berlin GmbH was able to support the Berlin City Mission with 30 mattresses And it was worth it. According to Theresa Hellmund, head of the emergency overnight stay in Lehrterstraße, not only did the sleeping situation improve: "Thank you very much for your generous contribution to 30 mattresses for our emergency overnight stay! That's wonderful! Our homeless guests were very happy with the mattresses and the evenings were more conflict-free than with the previous sleeping pads because the guests have more space, privacy and a good night's sleep on the beds."
Emergency overnight stay I (from November 1st to March 31st from 9 p.m.)
Lehrter Strasse 68
10557 Berlin
Cold bus: (0178) 523 58 38